OVERVIEW
---
The words "human rights education" became more widely used in Asia-Pacific only during the decade of the 1990s. But its practice had started in many Asian and Pacific countries decades before the words "human rights education" became popular. Educational initiatives that relate to human rights have already existed in the 1950s.
One can easily cite as an example the DOWA education in Japan as essentially human rights education and yet called by a different name. It started in early 1950s. DOWA education promotes basic human rights concepts such as equality and harmonious co-existence and therefore falls under human rights education. As explained in one publication:
Dowa education can be divided into 'Dowa education as human rights' and 'Dowa education about human rights.' The former deals with issues of school enrollment, school achievement and educational opportunities in general, while the latter is concerned with school curriculum and teaching efforts to change prejudiced views and to enhance human rights awareness. [i]
In other Asian countries, human rights education also takes different names. It can be democracy education, peace education, legal literacy, paralegal training, workers' rights education, consumers' rights education, and even health education. In the formal education system, human rights can be taken up as part of civic education, values education, or social studies (though they may have the limitation of presenting only certain aspects of human rights rather than their integrated whole, and duties of citizens may be overly emphasized to the detriment of certain rights and freedoms).
Continue reading overview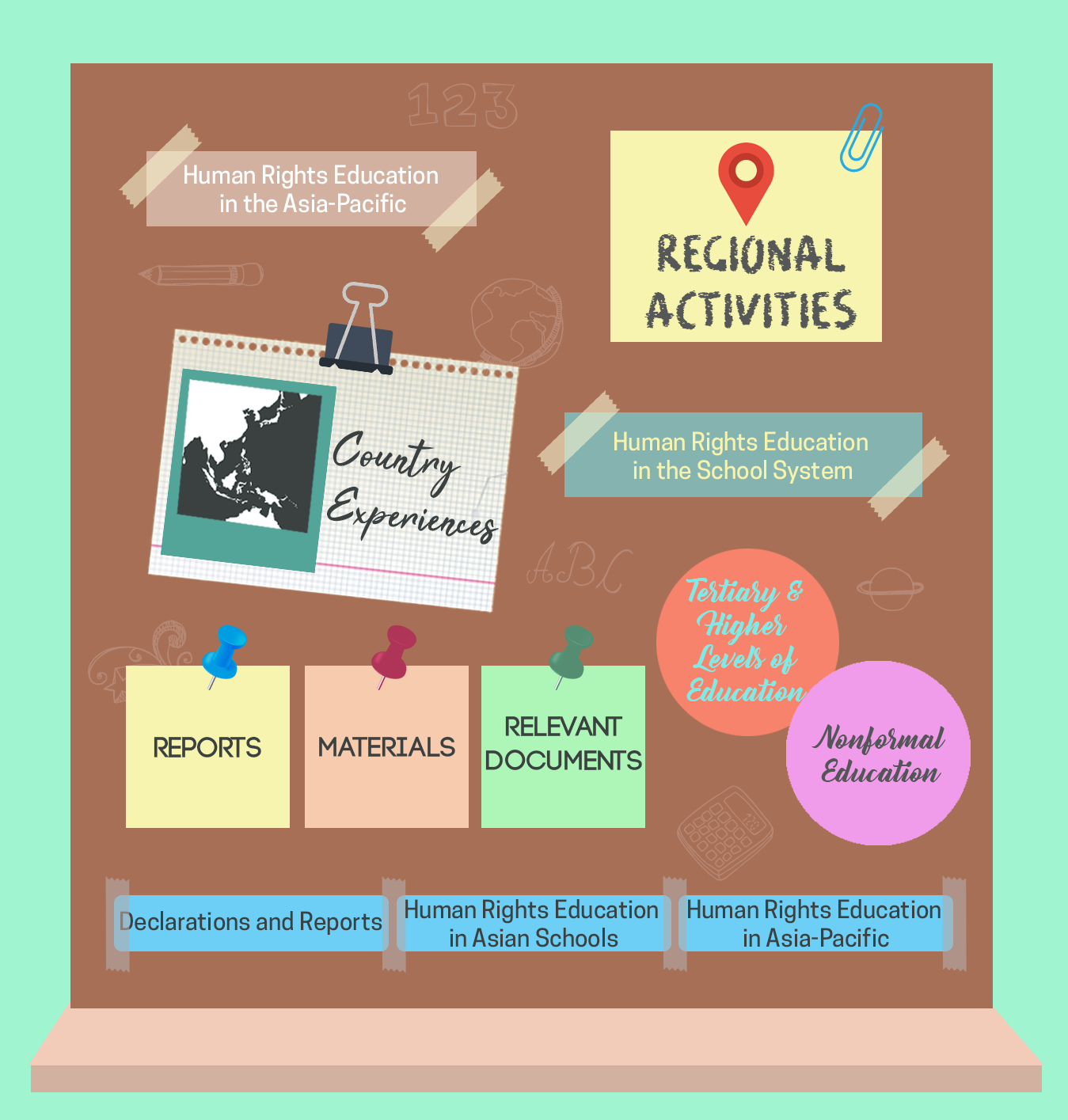 Human Rights Education in the Asia-Pacific
Human Rights Education in the School System
Research
- Southeast Asia Pilot Teacher Training Workshop on Human Rights Education in Schools, HURIGHTS OSAKA (Vol. III 2000)
- SEA Writeshop: Developing Human Rights Lesson Plans (Vol. V, 2002)
- Training Workshop on Human Rights Lesson Plans, HURIGHTS OSAKA (Vol. IX, 2006)
- South Asia Training Workshop on Human Rights Education in Schools, HURIGHTS OSAKA (Vol. IV, 2001)
- Asian Views on Gender-inclusive English, George M. Jacobs, Zhuo Qiong-yan, Patricia C. Jocson, Ong Chye Wah, Maria Elizabeth D. Austria, Marti Sevier and Winnie Teo (Vol. IV, 2001)
- Cooperative Learning to Promote Human Rights, George Jacobs (Vol.VI, 2003)
- Combating Discrimination Through Education: Some Good Practices in South and Southeast Asia, Jefferson R. Plantilla (Vol. IX, 2006)

- Human Rights Education in Schools in Central Asia, CHRF Central Asian Team (Vol. VIII, 2005)
- Asia-Pacific Survey on Human Rights Education in Schools, Joy de Leo (Vol. VIII, 2005)

- Human Rights EducationTour: Delegation from China, HURIGHTS OSAKA (2002)
- Holism, Dialogue, and Critical Empowerment: A Pedagogy for Peace, Marion Kim (Vol. VII, 2004)
- The United Nations and Human Rights Education in the Asia-Pacific Region, Jefferson R. Plantilla (2004)
- Training Workshop on Human Rights Lesson Plans, HURIGHTS OSAKA (2006)
- South Asia Workshop on Human Rights Education in Schools, HURIGHTS OSAKA (2001)
- Combating Discrimination Through Education: Some Good Practices in South and Southeast Asia, Jefferson R. Plantilla ((Vol. IX, 2006)
- The Asian Dialogue on Human Rights Education, HURIGHTS OSAKA (Vol. V, 2002)
- Educating Children and Youth Against Racism, OHCHR (Vol. V, 2002)
- Building Partnerships with Academia to Further Child Rights in Higher Education in South Asia

,

Save the Children Sweden ( Vol. XI, 2008)
- Context of Human Rights Education in Asian Schools, Jefferson R. Plantilla (Vol. XI, 2008)
- Child Social and Financial Education, Aflatoun (Vol. XII, 2009)
- Challenges to Learning and Teaching Human Rights, Jefferson R. Plantilla (Vol. XII, 2009)
- Asia-Pacific Regional Meetings on Human Rights Education, Jefferson R. Plantilla (Vol. XII, 2009)
- The United Nations and Human Rights Education in the Asia-Pacific Region, Jefferson R. Plantilla (Vol. VII, 2004)
Human Rights Education in the School System
Relevant Documents
- Universalizing the Right to Education, UNESCO, OHCHR, etc. (Vol. VI, 2003)
- Report of the Regional Seminar for South and Southeast Asia on: "Combating Racism, Racial Discrimination, Xenophobia and Related Intolerance: Role of Education (Vol. IX, 2006)
- Plan of Action for the First Phase (2005-2007) of the World Programme for Human Rights Education - Note by the Secretary-General (Vol. VIII, 2005)
- Promotion and Protection of Human Rights: Information and Education (Vol. VII, 2004)
- Report of the Regional Seminar for South and Southeast Asia on: "Combating Racism, Racial Discrimination, Xenophobia and Related Intolerance: Role of Education" (Vol. IX, 2006)
- Asia and Pacific Regional Framework for Action: Education for All (Vol. III, 2000)
- Final Document of the International Consultative Conference on School Education in Relation to Freedom of Religion or Belief, Tolerance and Non-Discrimination (Vol. V, 2002)
- The Seoul Declaration (Vol. III, 2000)
- United Nations Decade for Human Rights Education (1995-2004) - Report on the Midterm Global Evaluation (Vol. VI, 2003)
- World Conference Against Racism, Racial Discrimination, Xenophobia, and Related Intolerance (2000)
- The Cairo Declaration on Human Rights Education and Dissemination (Vol. VI, 2003)
Tertiary and Higher Levels of Education
Undergraduate/University level
Graduate Level
Non-formal education
1. Community Programs
2. - Sectoral Programs
3. - Programs for Professionals
4. - Local government
Human Rights Education in Asian Schools
Human Rights Education in Asian Pacific
Country Experiences
1. Central Asia
Azebaijan
Iran
Georgia
Kyrgyztan
Kazakhstan
2. Northeast Asia
China
- Protect the Environmental Rights and Justice of the Public, Dan Guttman and Xia Kunbao (Vol. 6, 2015)
- Human Rights Education in Chinese Schools, Hongyi Zhang (Vol VII, 2004)

- Let Each Child Have a Role to Play: A Chinese Teacher's Experience in Human Rights Education, Yanling Wang (Vol. VII, 2004)
- China: Legal Education, Zhang Li, Wang Jia-qin, Wang Min (Vol. III, 2000)

- China: Revitalizing Education in the 21st Century, Zhang Li, Lin Zhi-hua, Wang Jia-qin, Wang Min (2000)

Hong Kong
- Advocating Child's Right to Play - Hong Kong Experience, Kathy Wong (Vol. 5, 2015)
- Human Rights Education in Hong Kong, Grace Tsui (Vol. II, 1999)

- Promoting Human Rights Education in Hong Kong Secondary Schools, Angela Lee and Mary Yuen (Vol. II, 1999)

- Stereotypes in Textbooks and Teaching Materials in Hong Kong Equal Opportunity Commission of Hong Kong (Vol. VI, 2003)
- Stereotypes in Textbooks and Teaching Materials in Hong Kong: A Literature Review, Equal Opportunity Commission of Hong Kong (Vol. VII, 2004)
- Sexual Harassment Awareness Training for College Students, Equal Opportunities Commission of Hong Kong ((Vol. IX, 2006)
- NGOs in Schools: Hong Kong Experience, Kit Chan (Vol. IX, 2006)
- How Should We Move Forward?: A Critical Review of Human Rights Education in Hong Kong, Yan Wing Leung (Vol. X, 2007)

Japan
- Human Rights Education in Japan: Overview, Mariko Akuzawa (2015)
- Japanese Movements on Children's Participation and the Child-friendly City, Isami Kinoshita (Vol. 5, 2015)
- Anti-discrimination Education in Japan: Buraku Sabetsu Simulation, Daisuke Nojima
(Vol. 5, 2015)
- Child Rights Education in Japanese Schools, Akito Kita (Volume 2, 2011)

- What Do Textbooks Teach – and How? An Approach to Assessing Modes of Human Rights Education, Bettina C. Rabe (Vol. 2, 2011)

- Evaluating Human Rights Education in Osaka Senior Secondary Schools, Shin-ichi Hayashi (Vol. 2, 2011)

- Human Rights Education Network: Japan Experience, Shin-ichi Hayashi (Vol. VI, 2003)
- Child Power, Kaori Nakamura (Vol. V, 2002)
- DOWA Education and Human Rights, Mori Minoru and Yasumasa Hirasawa (Vol. I, 1998)

- Human Rights Education and the Osaka City Education Board, Yutaka Okazaki (Vol. II,1999)

- Human Rights Education in Kunijima High School, Toru Sasaki (Osaka Prefectural Kunijima High School) (Vol. I,1998)

- Japan: Human Rights Education in Schools, Yoshiro Nabeshima, Mariko Akuzawa, Shinichi Hayashi, Koonae Park (Vol III, 2000)

- Japan: "Internationalization" of Education, Yuko Okubo (Vol. III, 2000)

- English-Language Textbooks and Gender Equality, Ikuko Kato (Vol. V, 2002)

- International Human Rights Standards in High-School Textbooks, Yoshiko Kirisaka (Vol. V, 2002)

- Teaching for a Better World: Global Issues and Language Education, Kip A. Cates (Vol. V, 2002)

- The History and Activities of Osaka Prefectural High School Dowa (Human Rights) Education Research Association, Shinichi Hayashi (Vol. II,1999)

- Zendokyo and Other Groups: Teachers' Commitment to Dowa Education, Ichiro Akashi (Vol. II, 1999)

- ZENDOKYO: Japanese Teachers Struggling Against Discrimination, Katsumi Fujisaki (Vol. VII, 2004)

- Education Reform and Social Change in Japan: The Case of Osaka, Lary MacDonald (Vol. VIII, 2005)

- Fifty Years of Human Rights Education in Osaka, Makiko Shimpo (Vol. VII, 2004)

- Shin-Eiken and Peace Education in English-Language Classrooms, Masumi Ikeda and Keiko Kikuchi (Vol. VII, 2004)

- "Peace and Human Rights Committee" in the Special Religious Activities, Hiroyuki Okamoto (Vol. X, 2007)

- Dowa Education and Reforms in Human Right Education in Japan: Access, Content, and What's Beyond, Mariko Akuzawa (Vol. II, 1999)

- Whither Institutionalized Human Rights Education? Review of the Japanese Experience, Mariko Akuzawa (Vol. X, 2007)

- What Should Human Rights Education Aim At in Japan?, Kinhide Mushakoji (Vol. I, 1998)

- Learning About an Identity: Schools and Buraku Youth, Christopher Bondy (Vol. XII, 2009)

- Human Rights Education Initiatives in Osaka, HURIGHTS OSAKA (Vol. XII, 2009)

Mongolia
South Korea
Taiwan
3. Pacific
New Zealand
Australia
- Human Rights Education in the Australian School Curriculum, Nina Burridge, Andrew Chodkiewicz, Anne Maree Payne, Susan Oguro, Sally Varnham and John Buchanan (Vol. 5, 2015)

- Impacts of Australian Policies on LGBTIQ Student Rights, Tiffany Jones (Vol. 5, 2015)

- Developments in Human Rights Education in Australia, Sev Ozdowski and Nina Burridge (Vol. 5, 2015)

4. South Asia
Afghanistan
-The Afghan Institute of Learning: Bringing Human Rights Education to Afghan Women, Sakena Yacoobi (Vol VIII, 2004)

-Voices of Afghan Teachers of Human Rights, Latifa Fazululhaq, Khadija Haidar, Zakia Ibrahimi, Zarmina Mahmood, Atia Osmani, Nazia Saqib, and Wahida Shakir (Vol. IX, 2006)

-Human Rights Education in the Afghan School System, Ahmad Nader Nadery (Vol. XII, 2009)

Bangladesh
-Practice of Human Rights Education in Thailand and Bangladesh, Asian Institute for Human Rights and Center for Human Rights Studies (Vol. 6, 2015)
-Capacity Building for Human Rights Defenders on Enforced Disappearance, Odhikar (Vol. 6, 2015)
-Child Rights and Ain o Salish Kendro, Khursheed Erfan Ahmed (Vol. Ⅴ, 2002)

-Human Rights Education in Bangladesh: BRAC Program, A.Z.M. Sakhawat Hossain (Vol. II, 1999)

-Human Rights Education in Bangladesh: The Bacha Experience, Miriam Perlewitz and Joan Westhues (Vol. II, 1999)

-Human Rights Education in Schools in Bangladesh, Nurun Nahar Begum (Vol. IV, 2001)

-Human Rights Education in Bangladeshi Schools, Madaripur Legal Aid Association (Vol. X, 2007)

-Debate for Social Change: Secondary Schools and Madrassahs in Bangladesh, Working for Better Life (Vol. XI, 2008)

India
- Perceptions of Parents and Teachers in India on Play and Child Rights: A Comparative Study, Usha Ajithkumar (Vol. 5, 2015)

- An Experiment in Human Rights Education in Schools, Henri Tiphagne (Vol. II, 1999)

- Education for Human Rights and Democracy in Indian Schools, Arjun Dev (Vol. II, 1999)

- Human Rights Education in India: Needs and Future Actions, Balkrishna Kurvey (Vol. II, 1999)

- Human Rights Education in Indian Universities and Colleges, Mool Chand Sharma (Vol. V, 2002)

- India: Devaluation and Distortion of Human Rights in Textbooks, Sheela Barse (Vol. III, 2000)

- Human Rights Education in Schools: A Response by the Documentation, Research and Training Centre, Justice and Peace Commission (Vol. I, 1998)
- Human Rights Education - The Justice and Peace Commission's Experience, John Almeida (Vol. II, 1999

- MelJol: An Indian Experiment, Jeroo Billimoria, Kamal Damania, and Sumitra Ashtikar
- MelJol: MelJol: Hum Bacchon Ka, MelJol Team (Vol. II, 2001)

- National Council for Teacher Education Project on Human Rights and National Values for Teacher Educators, C.H.K. Mishra (Vol. II, 1999)

- National Initiative on Human Rights Education in Schools and the Role of the National Human Rights Commission, Lakshmi Singh (Vol. I, 1998)

- Human Rights Education in India: The READ Experience, Sam A. Chelladurai (Vol. VI, 2003)

- Indian Education at the Crossroads, Prakash Louis (Vol. VI, 2003)

- Human Rights Education in School: Loreto Sealdah, Sr. M. Cyril (Vol. VIII, 2005)

- Human Rights Education in Schools: The Indian Experience, Saroj Pandey (Vol. VIII, 2005)

- Human Rights Education in Indian Schools: Curriculum Development, Pranati Panda (Vol. IV, 2001)

- Responsiveness of Teacher Education Curriculum Towards Human Rights Education in India, Pranati Panda (Vol. VIII, 2005)

- Institute of Human Rights Education: India Experience,Vasanthi Devi (Vol. X, 2007)

- Human Rights Education in Schools - Project Implementation, Loreto Day School Sealdah (Vol. X, 2007)

- Human Rights Education in Schools and Colleges, Justice and Peace Commission, Mumbai (Vol. X, 2007)

- Human Rights as an Academic Discipline: Challenges and Opportunities, Buddhadeb Chaudhuri (Vol. X, 2007)

- Education of Ex-Untouchables (Dalits): Plight of Human Rights Education in Indian Schools, Abdulrahim P. Vijapur (Vol. X, 2007)

- Human Rights Awareness of Teachers and Teacher Educators: An Investigation, Saroj Pandey (Vol. X, 2007)

- Initiatives of National Human Rights Commission of India on Human Rights Education, National Human Rights Commission of India (Vol. XI, 2008)

- India Student Parliament Leads School Change,Caroline Brennan (Vol. XI, 2008)

- City Montessori School and Human Rights Education, Jagdish Gandhi (Vol. XII, 2009)

- Working for Women and Children and their Human Rights, Woman & Child Welfare Society (Vol. XII, 2009)

Nepal
Pakistan
- Rights of Bonded Laborers at Brick Kilns: A Social Protection Perspective from Pakistan, Ayesha Aftab (Vol. 6, 2015)
- The Citizens Archive Pakistan: A Case Study on Human Rights Education, Zainab Imam and Ali Abbas Ahmed (Volume 5, 2015)

- Human Rights Education in Pakistan-Ilm Aur Amn Ko Barhana Hai, Nasreen Iqbal (Vol. II,1999)

- The Society for the Advancement of Education's Community-based Schools Program in Pakistan, SAHE (Vol.IV, 2001)

- Let the People Prevail! The Authoritarian System of Education in Pakistan, Sibte Hasan (Vol. IV, 2001)

- His Rights/Her Duties: Citizen and Mother in the Civics Discourse,Rubina Saigol (Vol. V, 2002)


- Gender Biases and Stereotypes in School Texts

, Aamna Mattu and Neelam Hussain (Vol. VII, 2004)
- Schools, Syllabuses, and Human Rights: An Evaluation of Pakistan's Education System, Syed Jaffar Ahmed (Vol. IV, 2001)

- Peace and Human Rights Education: Pakistan Experience, Nasreen Iqbal (Vol. VIII, 2005)

- Seeds of Change: School Texts for Teaching Gender Equality - Human Rights and Peace, Neelam Hussain (Vol. VIII, 2005)

- Insensitivity of Pakistani School Education to Religious Diversity of the Nation, A.H. Nayyar (Vol. VII, 2004)

- Changing the Mindset: Fazaldad Human Rights Institute, Fazaldad Human Rights Institute (Vol. X, 2007)

Sri Lanka
5. Southeast Asia
Cambodia
Indonesia
Malaysia
- Human Rights Best Practices in Schools: SUHAKAM Program, Human Rights Commission of Malaysia (Vol. 5, 2015)

-Turning Around Negative Attitudes Toward Human Rights Through Human Rights Education, Chiam Heng Keng (Vol. XI, 2008)
- Assessing Knowledge of Human Rights Practices in Malaysian Schools, SUHAKAM (Vol. VIII, 2005)

- Human Rights and Education: Conference Report, Human Rights Commission of Malaysia (Vol. VI, 2003)

- Human Rights Education in Schools: The Malaysian Experience, Nik Azis Nik Pa (Vol. II, 1999)
Myanmar/Burma
Philippines
Timor Leste
Thailand

Vietnam

6. West Asia
Israel
Jordan

Lebanon
Qatar