FOCUS December 2018 Volume 94
Human Rights Abuses in Business Activities
Even legitimate business activities can facilitate human rights abuses. They can subject workers to discriminatory policies and actions as much as expose them to physical harm in the work place. They can indirectly support human rights abuses through their services that benefit entities engaged in criminal activities. They can adversely impact local communities without technically violating laws.
Institutions operating in the business world including the big financial institutions, commercial law firms and government oversight agencies are subject of scrutiny on their role (or lack of it) in ensuring that business runs without human rights abuse.
The 7th Asia Pro Bono Conference held in Hong Kong on 25-27 October 2018 provided opportunities for the discussion of the different aspects of business that impact on human rights.
Held since 2012,1 the Asia Pro Bono Conference aims "to develop, explore and share pro bono initiatives and projects that strengthen access to justice in Asia and internationally." It "brings together lawyers, academics, law students, jurists, pro bono professionals, policy makers, civil society and non-profit representatives"2 from many countries in Asia and the Pacific. The 2018 conference, held with the support of the Hong Kong-based law firms, adopted the theme: "Inspire. Impact."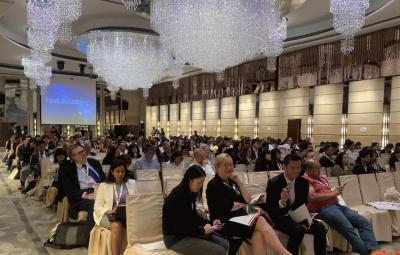 "Doing the Right Thing"
In the session on "Inspiring the Profession," Philip Dykes, a well-known human rights lawyer3 in Hong Kong speaking as a panelist, lauded the action of Hong Kong-based financial institutions and law firms4 in filing an intervention in support of the appeal to the Court of Final Appeal of a court decision on the Director of Immigration's rejection of the application of a person (QT) for dependant visa for her partner with whom she had a same sex civil partnership. The Court of Final Appeal rejected their intervention.5 But the court ruled that the decision of the Director of Immigration constituted an "unlawful discrimination."6
Dykes stressed that the lawyers thought that "something was not right" and so they took the action of questioning the decision of the Director of Immigration in court.
The financial institutions considered this court decision significant in view of the possible adverse impact of such government decision on the movement of people in Hong Kong who work for the business establishments. They "believed [that] respecting diversity was essential for the city to attract talent."7 Together with the law firms, they considered taking action on the issue was the right thing to do.
Financial Institutions and Trafficking
The session on "People Trafficking and the Financial Sector" dealt with the role played by the business sector in the operations of human trafficking groups. The main concern was the use of the banks and remittance companies in transferring large amounts of money by people involved in human trafficking. This is illustrated in the case of Western Union which was penalized in the U.S. in January 2017 for failing to monitor the remittances of money by individuals to suspected human traffickers.8 This case is a lesson for banks and remittance companies regarding the need to exert due diligence in monitoring the use of their services by individuals and organized crime syndicates. This case also points to the need to see human trafficking as an economic issue considering the staggering amount of money involved.
Western Union has initiated changes in its operations since August 20189 and joined international initiatives on countering human trafficking such as the use of the Anti-Human Trafficking Toolkit by banks and financial institutions. The toolkit is being shared on "confidential basis with financial institutions, expert anti-trafficking NGOs [non-governmental organizations], and other key stakeholders, including financial crime compliance standard-setting bodies, national Financial Intelligence Units (FIUs), and law enforcement agencies."10
The main initiator of the anti-human trafficking project for financial institutions in the U.S. reports on the toolkit:11
"This Toolkit empowers financial institutions to leverage the vast amount of data at their disposal to identify red flags and help end human trafficking. Instead of allowing the proceeds of these despicable crimes to move through their institutions unchecked, these banks are choosing to tackle trafficking proactively in what could be a life-saving act of good corporate citizenship. Together with our law enforcement and advocacy partners, I am thrilled to work alongside these institutions to stymie the flow of illicit profits and put traffickers out of business," said Manhattan District Attorney Cyrus R. Vance Jr.
Pro Bono for Migrant Workers
The session on "Pro Bono for Migrant Workers" highlighted the significant contribution of the migrant workers to their countries' economy, with their remittances rising higher than the foreign direct investment (FDI) in their countries such as in the cases of India and the Philippines. It also pointed out that the exploitation of migrant workers, globally speaking, was done by legitimate businesses not only by organized crime syndicates.
The session discussed ways of providing remedies to the problems of the migrant workers such as the use of existing labor laws in the host country (on issues such as overtime pay, compensation for illegal acts) and criminal injury compensation scheme to counter exploitation of migrant workers and sex trafficking (Australia). And in case they have gone back to home country, cooperation among lawyers in both host and home countries would be crucial in pursuing claims against abusive employers. This is illustrated by the work of the Justice Without Borders (JWB), which has solely focused on obtaining compensation for migrant workers and victims of trafficking after they left the host country. JWB works with commercial law firms in getting the compensation for workers who have returned home. Experiences in other countries also showed the need to make the company leaders become more aware of the problems of the migrant workers and discuss them at the Board level.
United Nations, Businesses and Pro Bono Lawyers
The session on "Advocacy, Influence and Breaking Through" showcased how the United Nations, businesses and pro bono lawyers could collaborate to make a difference in the business and human rights field. Surya Deva, the Asia-Pacific representative in the United Nations Working Group on the issue of human rights and transnational corporations and other business enterprises,12 urged the maximized use of a range of remedies to human rights abuses arising from company operations. He cited the role of non-judicial remedies including those available at the national human rights institutions.
Use of Information Technology
The conference also dealt with the use of the internet-based information and communications technologies in reaching out to those in need of legal support as well as helping lawyers in their work from legal research to preparing legal documents. These new technologies are also essential additional tools in monitoring business enterprises on their compliance with the responsibility to respect human rights.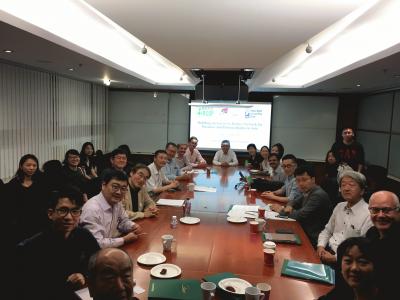 Side Event: Business and Human Rights Roundtable
The Human Rights Law and Policy Forum (HRLF) of the Law School of the City University of Hong Kong in collaboration with the Research Center for Sustainable Peace, Graduate School of Arts and Sciences, University of Tokyo organized a roundtable on "Building an Access to Justice Network for Business and Human Rights in Asia" on 28 October 2018, a day after the Pro Bono conference ended.
The Roundtable brought together lawyers, academics, non-governmental organization workers and students from China, Hong Kong, Japan, Korea and the Philippines. They discussed the different initiatives on addressing business-related human rights abuses.
Some Highlights of the Roundtable
The brief presentations and discussions in the Roundtable dealt with the developments, opportunities, obstacles, and proposed measures on how to address business-related human rights abuses.
The current situation in a number of countries shows some opportunities and developments in areas where human rights can be protected in relation to business operations. Existing laws related to business operations that may have human rights implications can be used to address problems (China). Corporate social responsibility (CSR) can be used as vehicle to introduce human rights to companies (China); certified social insurance and labor consultants13 (sharoushi), for example, can use CSR to be able to get companies to comply with international human rights standards (Japan).
There are also initiatives by lawyers' organizations on business and human rights such as that of the Japan Federation of Bar Associations (JFBA); initiatives such as the creation of link between lawyers working on human rights issues and the companies through dialogue (Japan) and the networking among corporate and human rights lawyers (Japan).
There are however serious obstacles to promoting human rights in business operations. Human rights are still sensitive matters in China that can hinder any initiative on business and human rights. The headquarters-centered corporate system of Japanese companies is a problem. Decision and action cannot be taken in the branch offices outside Japan unless approved by the headquarters, which may not fully understand the local situation. At the same time, there is a need to increase "low level" decision-making and localization (hiring of local employees in management positions) in the offices of Japanese companies in other countries.
There is also little involvement of local stakeholders in addressing the issues of the companies (Japan, China). Also, company officials may not be aware of reports about their operations prepared by external institutions such as non-governmental organizations (NGOs).
Inter-country efforts at holding companies accountable are difficult as shown in the humidifier case in South Korea.14 And lack of laws to address human rights issues such as "slavery" hinder action on these problems (Hong Kong). And the law on non-Chinese non-governmental organizations (NGOs) affects not only the non-Chinese NGOs but also their relationship with the Chinese NGOs.
There are possible measures that should be considered. Academics can act as bridge between companies and stakeholders (China). Companies can engage the local civil society organizations in host countries. And with restrictive political environment, judicial and administrative procedural laws can be used to protect rights, rather than stressing only the laws on "substantive rights." Also, there should be adequate attention to small and medium-sized companies (which constitute 98 percent of all companies in Japan),15 where human rights abuses also occur.
The Roundtable discussion ended with a proposal to create an online platform for exchange of information, ideas and experiences that would support the advocacy on resolving business and human rights issues. Such platform may create a database on different situations from which companies may learn about the risks of supply chain.
Jefferson R. Plantilla is the Chief Researcher of HURIGHTS OSAKA.
For further information, please contact HURIGHTS OSAKA.
Endnotes
1 Previous Asia Pro Bono conferences were held in Laos (2012), Vietnam (2013), Singapore (2014), Myanmar (2015), Indonesia (2016) and Malaysia (2017).
2 2018 Asia Pro Bono Conference, www.probonoconference.org/about/.
3 Philip Dykes is the new Chairperson of the Hong Kong Bar Association.
4 Fifteen financial institutions and sixteen law firms filed an intervention in the court petition, QT versus Director of Immigration, Court of Final Appeal, FINAL APPEAL NO. 1 OF 2018 (CIVIL), [2018] HKCFA 28, https://legalref.judiciary.hk/lrs/common/ju/ju_frame.jsp?DIS=116049.
5 See Chris Lau, "Hong Kong's top court denies 31 major banks and law firms' bid to support lesbian expat 'QT' in LGBT rights battle," MSN News, 1 May 2018, www.msn.com/en-sg/news/other/hong-kongs-top-court-denies-31-major-banks-and-law-firms-bid-to-support-lesbian-expat-qt-in-lgbt-rights-battle/ar-AAwAkFt.
6 See QT versus Director of Immigration, ibid.
7 Lau, op. cit.
8 See Peter J. Brown, "Human traffickers face cash crunch after Western Union probe," Asia Times, 7 February 2017, www.atimes.com/article/needs-pic-human-traffickers-face-cash-crunch-western-union-probe/. Also, Lauren Debter, "Aiding Crooks, Agrees To Pay $586 Million," Forbes, www.forbes.com/sites/laurengensler/2017/01/19/western-union-anti-money-laundering-consumer-fraud-violations/#46ee0efa7238.
9 See "Western Union Crack Down on Human Trafficking," Press Release, Western Union, 6 August 2018, http://ir.westernunion.com/news/archived-press-releases/press-release-details/2018/Western-Union-crack-down-on-Human-Trafficking/default.aspx.
10 Western Union, ibid.
11 "Thomson Reuters Foundation launches resource to help financial institutions tackle human trafficking," Thomson Reuters Foundation, 19 July 2018, www.trust.org/i/?id=928ac731-8e74-40db-985a-5e5a4464a86b.
12 See "Members of the Working Group on the issue of human rights and transnational corporations and other business enterprises," United Nations – Human Rights, www.ohchr.org/EN/Issues/Business/Pages/Members.aspx.
13 See Japan Federation of Labor and Social Security Attorney's Associations, www.shakaihokenroumushi.jp/en/tabid/296/Default.aspx. Also, in relation to CSR, see this report in Japanese language, 鈴木 俊男, 社労士の労働CSRとの関わり, www.shakaihokenroumushi.jp/Portals/0/doc/nsec/souken/2017/鈴木_2016-11.pdf.
14 See "S Korean exec jailed over toxic humidifier disinfectant," BBC, 6 January 2017, www.bbc.com/news/business-38526697. See also Reckitt Benckiser, Humidifier Sanitizer, www.rb.com/responsibility/humidifier-sanitizer/.
15 See SME Support Japan, www.smrj.go.jp/english/about/.
---