FOCUS December 2017 Volume 90
People and Profits: UP IHR's Guide on BHR for NGOs
On 23-27 October 2017, the Open-Ended Intergovernmental Working Group (OEIGWG) held its third session seeking to deliberate on the content, scope, nature and form of a binding international instrument to regulate the activities of transnational corporations and other business enterprises.1 SOMO, the Dutch non-profit center on multinational corporations, reported the huge turn-out of hundreds of "representatives of civil society organizations, trade unions and affected communities coming from every corner of the globe," in the OEIGWG sessions that demonstrated the crucial role that civil society could play in high-level decision-making.2
While the provisional report of the session that was adopted by consensus on the third session's last day did not conclude that there would be a fourth session in 2018 to start substantive negotiations on the text of the future treaty, it did request the Chair-Rapporteur to hold informal consultations with States and other relevant stakeholders on the way forward.3
In 2015, when the University of the Philippines Institute of Human Rights (UP IHR) began its program of consultation with stakeholders and development of publication on Business and Human Rights (BHR), most Philippine academic institutions and non-governmental organizations (NGOs) lacked publications and other resources on BHR that could have enabled them to substantially contribute to national, regional and international discussions on binding treaties such as the one envisioned above.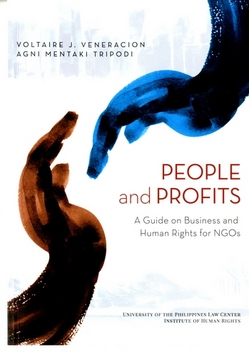 UP IHR, under the Directorship of Professor Elizabeth Aguiling-Pangalangan, engaged the services of the authors as consultants to find out the needs of the different sectors in the country and develop a publication for local readers on this emergent interdisciplinary field of human rights. UP IHR sought to build the capacity of Filipino organizations and communities on using the United Nations Guiding Principles on Business and Human Rights: Implementing the United Nations 'Protect, Respect and Remedy' Framework (UNGP) as a tool to advocate for the respect and protection of human rights in economic and business endeavors, should they so wish.
Participative Consultations
In 2015 and 2016, during UP IHR's participatory consultations on BHR, the authors confirmed that the Philippine government and business associations and chambers of commerce in the country had yet to make a public statement specifically referring to the UNGP. While the Philippine government had endeavored to protect migrant workers and fight human trafficking, it had not provided businesses, including those in areas affected by conflict, with guidance on how to respect human rights whether through encouragement, incentive or regulation.4
While we learned from civil society organization (CSO) participants about the Human Rights Impact Assessment (HRIA) of a local mining operation in 2013 by German NGO MISEREOR and its local partners,5 most academic institutions and civil society organizations in the Philippines had yet to use UNGP in company research and advocacy and conduct a thoroughly documented HRIA of a business operation. Participants from all three consultations held saw the benefit of training and gaining access to tools for conducting a general human rights check and addressing adverse human rights impacts.
Guide on BHR
Consultation participants also gave presentations on UNGP and received feedback on a draft toolkit for assessing company compliance with UNGP that project research associates Ruth Guinto and Christopher Edward Nuevo helped prepare using many BHR references that author Mentaki Tripodi discovered while doing research for her postgraduate thesis. Various sectors affirmed the need for an UP-IHR publication that explained BHR in the Philippine context, such that after finishing the consultations, UP IHR accepted our team's recommendation to develop such a local publication for civil society organizations.
Oxfam Southeast Asia helped our BHR team get access to Oxfam's toolkit, the Community-Based Human Rights Impact Assessment (COBHRA), and invited Veneracion to attend its BHR Workshop in Jakarta, Indonesia to learn how to use it, as well as other HRIA tools.
Upon the suggestion of UP College of Law Professor Evelyn "Leo" Battad, we added an introduction to human rights in general. She explained that in her experience as a lawyer of Free Legal Assistance Group (FLAG), many activists, campaigners, and community leaders knew little about human rights and could benefit from learning about its history and basic principles before any discussion on BHR.
In mid-2017, we finished writing our book People and Profits: A Guide on Business and Human Rights for NGOs (UP Law Center: 2017) with the intention of promoting an awareness and understanding of UNGP - both its strengths and points for improvement - in the Philippines so that the Philippine government would be aware of its duty to protect human rights; companies, of their duty to respect them; and civil society organizations and communities of their human rights in relation to business operations.
Book Launching
Last 30 August 2017, UP Law Center hosted the launch of the book at Malcolm Hall Faculty Lounge, College of Law, UP Diliman. IHR Director Prof. Elizabeth Aguiling-Pangalangan delivered welcome remarks; the authors made presentations on UNGP; former UP Law Dean (now International Criminal Court Judge) Raul C. Pangalangan, Commissioner Roberto Eugenio T. Cadiz of the Philippine Commission on Human Rights, and Bantay Dagat and Philippine MISEREOR Partnership Legal Counsel Mario Maderazo provided expert reactions to the new publication; and UP Law Associate Dean Concepcion Jardaleza delivered the closing remarks.
People and Profits provides an introduction to human rights in general; UNGP's history and the three pillars, as well as developments in their implementation prior to the third session of OEIGWG on a legally binding treaty; and frameworks and links to an assessment tool for company compliance with UNGP and HRIA tools.
The authors and the rest of UP IHR hope that through People and Profits Philippine civil society can better lobby with government and the business sector for the development of a National Action Plan and support the implementation of the ASEAN Regional Strategy to Promote Corporate Social Responsibility and Human Rights (2016), as well as engage constructively in discussions and consultations on a legally binding instrument on BHR in international forums.
Voltaire J. Veneracion is a Filipino attorney-at-law and social entrepreneur. He has been the lead researcher for UP IHR's projects involving women's rights and the Convention on the Elimination of All Forms of Discrimination Against Women (CEDAW); the United Nations Guiding Principles on Business and Human Rights; capital punishment; and the security of Human Rights Defenders. Write him at vveneracion(a)gmail.com.

Agni Mentaki Tripodi is a Greek marketer by profession who practiced International Management for over 11 years and received a masteral degree with a thesis on Corporate Social Responsibility (CSR), specifically, on BHR and the implementation of UNGP in the pharmaceutical sector. Write her at agniment(a)gmail.com.
For further information, please contact: UP Institute of Human Rights (UP IHR) at telephone number +63-2-9205514 local 205; ihrclaw(a)gmail.com.
Endnotes
1 United Nations Office of the High Commissioner for Human Rights website, www.ohchr.org/EN/HRBodies/HRC/WGTransCorp/Session3/Pages/Session3.aspx (last accessed on 4 December 2017).
2 SOMO website: www.somo.nl/development-un-treaty-business-human-rights-moving-new-phase/ (last accessed on 4 December 2017).
3 Ibid.
4 Human Rights Resource Center, Business and Human Rights in ASEAN: A Baseline Study (May 2013), http://hrrca.org/business-and-human-rights-in-asean-a-baseline-study/ (last accessed on 4 December 2017).
5 Brigitte Hamm, Anne Schax and Christian Scheper, Human Rights Impact Assessment of the Tampakan Copper-Gold Project, Mindanao, Philippines (Germany, Misereor: 2013).
---