FOCUS June 2011 Volume Vol. 64
Child-friendly Spaces in Japan: An Integrated Approach for Child Protection in an Emergency
Children are most vulnerable during emergencies. When basic resources become scarce due to multiple and severe disasters that lead to loss of homes and livelihoods, survivors give priority to security matters. In crisis situations, children are not always recognized as persons with capacity to make decisions. With protection systems being weak or non-existent during emergencies, children are at risk of sexual abuse and exploitation, physical harm, separation from their families, and other forms of harm.
A child protection system during emergencies is an important component to ensure appropriate care and protection of vulnerable children. During natural disasters, children encounter various difficulties: separation from families, witnessing death, and living in unfamiliar and continually changing situations. They cause both physical and psychosocial distress. Children therefore are in need of different kinds of support to rebuild their lives. The minimum response should include delivery of services to secure the basic needs of children, make children properly understand on-going changes, help build their own resilience, and support reunification with their families and communities. Therefore, child protection in an emergency should be viewed through a holistic approach, entailing elements of promotion of physical and emotional well-being as well as addressing prevention of abuse, exploitation, and other harm. Child protection initiatives should respond quickly to the needs of children and ensure their meaningful participation and recovery over a long-term period.
The child-friendly spaces (CFS) are created as a special intervention outreach for children, as a place to listen to them and respond to their needs. CFS assists children in regain their resilience and sense of normalcy while in emergency situation.
Although it is referred to differently by other agencies as a safe space, child-centered spaces, or child protection center, this intervention is part of a common lineage of support for children to relax, play, and interact with others. CFS can also lay foundations for better protection of children so that they are well safeguarded from possible harm and accidents. In areas where there is an emergency situation and the normal security system is not yet fully functioning, children are likely at risk of various forms of abuse, exploitation, and neglect. A CFS is there to prevent harm and establish monitoring systems that address possible risks that children face.
Before a CFS is established, responsible agencies have to conduct a needs assessment and review available resources. Objectives have to be clearly stated at the outset to determine which direction the CFS will lead to and how to involve children, parents, and the affected community in the planning and implementing process. In case of many unaccompanied orphan children; those who lack appropriate care and suffer trauma or other previously unknown adverse affects, a CFS should serve as an initial mechanism that supports children's emotional well-being and has to refer cases to responsible bodies. It must introduce platforms for establishing child protection systems that also enable children to continue their lives after the emergency situation.
2011 Earthquake and Tsunami in Japan
The earthquake-tsunami disaster that struck in northeastern Japan1 on 11 March 2011 is one of the most alarming crises Japan has faced. The disaster is compounded by the emission across the disaster-affected area of high-level radiation from the damaged Fukushima nuclear power plant. This disaster led to a number of causalities including at least fifteen thousand dead and more than five hundred thousand displaced persons. Of the thousands displaced, many were children.
Initial estimate put the number of affected children to 74,000. Initial on-site assessment revealed extremely harsh conditions for children and families. Many children suffered displacement and separation from home and family. They were unable to sleep, suffered nightmares, and experienced anxiety and stress. Striving to live in the unfamiliar surroundings of the evacuation centers, children also faced continuing aftershocks, possible risk of another tsunami, and evacuation from areas around the damaged Fukushima nuclear power plant. Freezing weather worsened living conditions; there was no electricity or running water when the evacuation centers were initially established. This environment also made many infants and young children vulnerable to illnesses.
"Our house was swallowed by the big piles of waves. It continued to come in directly to where we were standing, I was so afraid. Now I want to go home, I need a bath and want to be together with my friends" - Kosuke, six years old.
"I was terrified, I could not believe what I was seeing. We could not even think about returning home - my house was destroyed and besides, we were frightened that another tsunami would come"
- Riko Tomita, twelve years old.
Save the Children began mobilizing its resources and identifying partners, relief agencies, and authorities in and around the impact area to assess the services available and to efficiently meet the needs of children and families. A field survey at the very outset of the emergency response found that children were in urgent need of basic relief items as well as psychological support to deal with fear and uncertain environments.
Child-friendly Space as a Primary Approach
The field survey disclosed thousands of homeless children staying in different evacuation centers, with nothing to do. The children often could not express their feelings and held back what they wanted to say.
"I would just walk up and down the corridors, and try to do something like run about, but mostly it was not interesting" Kazuki Seto, eight years old, in an evacuation center in a primary school in Miyagi prefecture.
In response, Save the Children in collaboration with Japanese partners established CFS as the easiest, quickest approach to learn more about children's problems and also render systematic support to them. The first CFS opened on 16 March 2011 at a primary school, while many more were established subsequently totaling nineteen CFS in different affected areas. Staffs at CFS initially helped children understand what had happened and how to manage their feelings of loss and uncertainty. The spaces also freed parents and families from worries and stress; the parents could then focus on re-establishing their livelihoods knowing their children were in safe hands.
Save the Children started involving children at the very beginning of the process. In Miyagino ward, Sendai city, Miyagi prefecture two weeks after the disaster, Save the Children staffs explained the idea of having spaces for children to the people in the evacuation centers and asked some children volunteers to work together in setting up the area. Children helped clean and make the space ready. They also made posters explaining what a CFS was to invite more children to join.
The CFS is tailored to support children in different age groups from four to fourteen years old. Activities include making origami (paper folding), drawing pictures, molding clay, and playing games in which children are involved in designing rules and contents. After participating in the CFS activities, children express relief and the feeling that they are getting stronger with the many friends and adults standing by their side. Adult staffs have played games to assess children's psychosocial conditions as well. In close cooperation with doctors and counselors from t he government, Save the Children has developed a referral system that is ready to help children found suffering from serious trauma.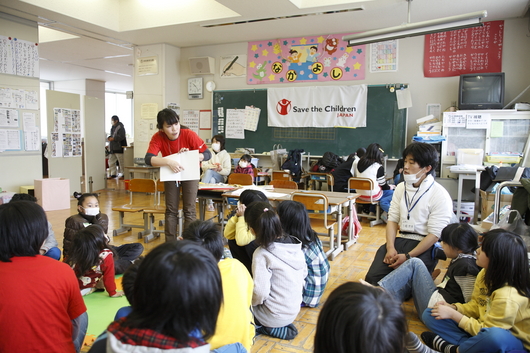 Play and Games
CFS empower children through play. Staff members who organize activities are also tasked to observe the situation of the children; they bear in mind that stress and worries may not surface from daily conversation with children. Therefore, play and games are used as tools to help children relax and feel comfort. While participating in various activities supported by trained adults, children feel more secure, and start to speak of their fear and worries. Children also have chances to interact with other friends, which help them express themselves as they rebuild their lives.
Parents and caregivers are guided on how to work with children. They are given materials on how to support children's emotional well-being, including tips on talking to children about their experiences. Occasionally, those found having serious traumatic stress are referred to professional social workers for further counseling.
"I play with everyone! All along, just fun"
"At first when we saw it (CFS) opened, we thought it was a bit boring because there was no activity. The place was not lively, but now it is and we like it. It seems really good to be here because there are a lot of things going on and I am happy about it"
"It's a great place where we feel safe. We have no concerns of being on our own. We don't want to be alone."
CFS helps build the resilience of children and creates an entry point for developing other life skills. It is also important for adults and the community to provide continuous support to help children cope with the aftermath of the disaster. Therefore, Save the Children has also implemented a school- and community-based approach to help children live with high spirit. Delivery of five thousand five hundred "Back to School Kits" and the organizing of a creative event called "Dream Truck Theater," where children have the chance to celebrate children's day through games, concert, and drama, are another steps to empowering children and ensuring healthy integration to their communities even while they are undergoing the recovery process. This kind of community-inclusive program aims not only to promote the rights of children, but also to ensure that after the rescue stage has passed there will be an effective children's development program where parents and other childcare providers will be highly motivated to be part of.
Children's Resilience and Participation
"We have friends who lost their families and their homes, some have left our school. The town is covered with wreckage and it will take a long time to get back to normal. But we will work hard for this and bring back our town.
A Japanese medical aid worker's diary:
I talked to a boy who had a fever and a loss of appetite. He showed me a Doraemon2 book covered in mud. I asked him what his favorite was of all of Doraemon's tools. 'I used to like the ozashiki tsuribori (indoor magic fishing mat), but now my favorite is the taimu furoshiki (wrapping cloth of time). I want to wrap up the whole city with the taimu furoshiki and make it go back to how it was before the earthquake.'
In emergencies, children are often recognized as passive victims who merely receive relief items and services.Working closely with them makes us realize how much strength children have and the ways they use to cope with loss and tragedy. Right after the Japanese disaster a great number of child survivors were rescued, who kept their hope and spirit. Many children waited quietly in line for many hours with their parents to receive food and water. In the evacuation centers, older children also helped taking care of younger ones; they shared food, snacks, toys, and hardly complain about the difficult situation they have faced.
Recently, the CFS gathered children to do an art piece to build the morale of everybody in the evacuation center. Children worked on an origami poster – folding papers and writing messages to encourage people. The small art pieces were placed on a wall where other people in the evacuation center can write something on to express their own feeling as well. This child leadership activity is an entry point towards community healing – children have helped a lot in lifting up the spirits of people who are still in difficult circumstances and in the process of recovering from the tragedy.
Future Tasks
The CFS established for the recent northeast Japan disaster consult the Japanese children disaster victims on any matter that affects their lives. They will later on develop long-term recovery plan that provides for the children's involvement in emergency preparedness planning processes. Under the long-term recovery plan, the CFS will be adjusted to become community child protection centers that work with children after school to provide further support during the post-emergency situation. They will also make children take part in decision-making; and will provide opportunities for children to learn about their rights and how to become active citizens in their own communities.
Warangkana Mutumol is a Thailand Cross-border Programme Advocacy and Capacity-building Officer, Asia Regional Office of Save the Children UK.
For further information, please contact: Warangkana Mutumol Save the Children UK, Asia Regional Office, 14th floor Maneeya Center Bldg., 518/5 Ploenchit Road, Lumpini, Patumwan, Bangkok 10330 Thailand; ph (662) 6841291, 6520518 to 20; fax (662) 6841289; email: warangkana@savethechildren.or.th ; www.crossborderprogramme.word press.com
References
Child Protection in Emergencies, 2006, Save the Children Sweden and the International Save the Children Alliance
Guidelines for Child Friendly Spaces in Emergencies, Field-testing version, January 2011, by Global Education Cluster, Global Protection Cluster, INEE, and Inter-Agency Standing Committee
Save the Children Emergency Response Blog for Japan Earthquake and Tsunami, www.savechildren.or.jp
Save the Children Exclusive Briefing Document: Save the Children's Commitment to Children and Families Affected by Japan's Massive Earthquake and Tsunami, www.savechidlren.or.jp
A Japanese medical aid worker's diary, http://jkts- english.blogspot.com/
Endnotes
1. nThe earthquake and tsunami struck mainly three prefectures (Fukushima, Iwate and Miyagi) in the so-called Tohoku (northeast region) of Japan that faces the Pacific Ocean.
2. Doraemon is a popular television cartoon character in Japan.
---