FOCUS June 2010 Volume 60
Farewell, Beida! Statement by Guo Jianmei and Her Team
On 25 March, the Division of Social Sciences, Peking University (popularly known as Beida), published a Notice of Cancellation of Organizations on the University's official website. The Center for Women's Law & Legal Services was one of the four on the list. The days that followed were filled with calls of concern and support from the media, non- governmental organizations (NGOs), partners, the relevant authorities, friends and persons whom we have helped. We are touched, and we are grateful!

To an entity that has been single-minded in purpose and enterprise for the last fifteen years, expulsion from the Peking University family is a major and unexpected setback which affects more than just the entity itself. For the Center for Women's Law & Legal Services of Peking University is a symbol of deep significance. To the country, it is an industrious pair of hands that helps build social harmony. To the weak and the vulnerable, it is a ray of light that offers warmth and hope. To NGOs and our partners, it is a fellow comrade on the frontlines, enforcing the rule of law and advancing good for the civil society. To the people at large, it is a deliverer of social conscience and the spirit of law. And to every member of the Center, it is our common home.

As such, to those who have cared and still continue to care, I would like to say a few last words about this name that has become history: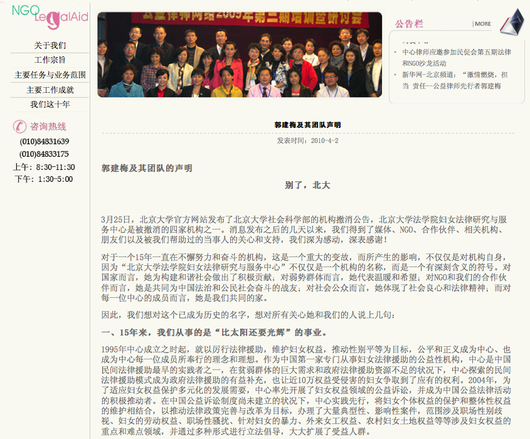 Statement on the Center's website

I. In fifteen years, we have lighted up more lives than the sun has.
Since the Center's inception in 1995, our aim was to provide legal aid, protect women's rights, and promote gender equality. Equity and justice were not only the Center's tenets, but the belief and ideal espoused by every member. As the first public interest organization in China that specializes in providing legal aid for women, we were one of the earliest private legal aid practioners. While demand for legal aid among the vulnerable was high, State legal resources were scarce. The Center thus became an efficient complement that plugged gaps in the government's legal aid services. It has since helped more than 100,000 women victims obtain recourse to justice.

In 2004, to meet the increasingly diverse needs in women's rights protection, the Center began providing public interest litigation services, and was soon to become an important force in public interest legal practice. Absent a public interest litigation framework, the Center set itself to legal and policy improvement and reform by working on typical cases, incorporating the protection of the individual rights of women into the overall rights of citizens so as to ensure a deep and lasting impact. The cases involved important and difficult issues such as gender discrimination in the workplace, labor rights of women, sexual harassment in the workplace, violence against women, rights of female migrant workers, and rural women land rights. And by employing different approaches in legislative advocacy, the Center has expanded its beneficiary population.

Our efforts have rendered power to the law and to legal aid. A victim once told us, "the Center is like a lamp, glowing of equity and justice, exuding warmth in the cold, and shedding light on the darkness ahead." She spoke not only for the many weak and poor women, she spoke also for the meaning of our enterprise.

The Center has become a sphere of influence that motivated many later-comers. Consciously, it took on the responsibility of providing legal aid, conducting public interest litigation, organizing public interest legal advocacy, and training public interest lawyers. In 2002, a legal aid collaboration group was established, so as to enable more organizations and institutions to participate in the delivery of legal aid. In 2007, the Center founded the Public Interest Lawyers' Network for Women's Rights, and in 2009, the name was changed to China Public Interest Lawyers' Network. The Network currently comprises more than 300 brilliant lawyers from more than twenty provinces and cities, providing legal aid for thousands of poor and vulnerable people. I still remember the Network's launch ceremony on 15 March 2009 at the Centennial Lecture Hall at Peking University, where leaders from authorities such as the Ministry of Justice's Department of Legal Aid, Center for Legal Assistance, All- China Lawyers' Association and the Beijing Lawyers' Association turned up to show their support. The speech given by Professor Zhu Suli, Dean of Peking University Law Department, remains vivid in my mind.

In September 2009, Ms Guo Jianmei, public interest lawyer and head of the Center founded Qian Qian Law Firm. Specializing in public interest law and public interest legal activities, and comprising professional public interest lawyers, Qian Qian has expanded its scope to benefit a broader spectrum of vulnerable persons such as those with disabilities, migrant workers and the elderly.

Fifteen years of innovative approaches and effective outputs have not only profited the poor and vulnerable women; the Center has also grown to become an influential and credible NGO. It has earned praises and won awards. In February 2006, in their congratulatory note to the Center's tenth anniversary, Professor Min Weifang, the Party Secretary of Peking University, and Professor Xu Zhihong, President of Peking University, said, "the Center for Women's Law & Legal Services of Peking University has observed Peking University's glorious tradition of patriotism, progress, democracy and scientific approach. By seeking relentlessly, developing aggressively, and improving constantly, it has achieved commendable results, contributed to the progress and advancement of women's rights protection and legal aid delivery, and served its role in fostering harmony. Its work has won interest, support and tribute of the society and its peers, recognition and respect from women at large, and glory for Peking University!

As Premier Wen Jiabao said, "Equity and justice glow brighter than the sun." Indeed, equity and justice are ofsupreme value and significance to every individual, every country, and every nation. The Center shall be a faithful and determined perpetuator of this worthy cause.
II. Hurdles deter us not, but spur us on
Cancellation by Peking University was not our first setback. The Center was nearly closed down during its initial days, only to be followed by one challenge after another. Funding was a major problem, as in those days, funding channels were few and funding systems unregulated. This shortage stymied NGO development, and was the major obstacle to the Center's growth.

Talent is another problem, especially when the Center, as a professional organization, was in need of well-qualified legal professionals. Attracting and retaining talent in a society of low public interest awareness and driven by utilitarianism was a huge difficulty. So were balancing ideals with reality, dedication and compensation, and spiritual fulfillment and material satisfaction.

Our work is also hampered by a deficient legal environment, flawed enforcement systems, administrative interference, local protectionist policies, industry protectionism, even corruptive practices within the judicial system. Persistent overwork leading to physical and mental stress of the Center's members is also a permanent problem.

Cancellation is also not the gravest difficulty we have faced. We were even threatened with physical harm. When angry villagers in that remote village let go of their tightly clasped sticks, convinced by our steady and determined gaze, we knew we could never be beaten. Because justice is what we pursue, and justice will always triumph.

Difficulty is only an excuse of the weak and the feeble. To go- getters with conviction, difficulty is an impetus to move mountains. Difficulty is but snowfall before the spring. And snow melts. Thereafter, a spring breeze will blow away, bringing forth myriad blossoms and an enchanting fragrance.
III. Farewell, Beida! But our pursuance of equity and justice shall endure, and our belief in the rule of law shall prevail.
We have several members on our team who are Peking University graduates. They were inculcated with knowledge and intellectual depth, and nurtured with democratic sensibilities and humanistic values––the motivation for their choice of a public interest career. Cancellation was saddening to Guo Jianmei. This is not the Beida that she once knew. Guo Jianmei's resolute embarkation on a public interest career was guided by her Beida predecessors and the Beida spirit. She hopes that many will understand her sense of desolation and feeling of betrayal.

But desolation is one thing, Guo Jianmei and her team are as eager and as passionate as ever. They are convinced that legal aid and public interest work is what the people need, and what a harmonious society must have. These needs are revealed by the Center's work during the last 15 years, spoken by the sacks of millet and sweet potatoes, and the hundreds of thank-you banners from those poor and vulnerable clients, and proven by the numerous awards that the Center has won.

The Center may have become a chapter in history, Qian Qian is for now and the future.

The Center has devoted itself to serving women's rights, giving legal aid, and growing as an NGO. The least it has done is to have sent this message: Private legal aid organizations must and will play an indispensable role in China. Given the national circumstances, charting new frontiers will require dedicated and valiant fighters, and they should be recognized and encouraged.

The future will be bright, and we will stick to our goal and continue on. The road may be treacherous, and the view along the way may not be always pleasant. But the meaning of life is about keeping our feet on the ground, undeterred, and making our way toward our ideals.

We have no complaint, we have no regret.

We thank every entity and every friend who cares for and who supports us. We have you, who will walk with us.


Formerly Center for Women's Law & Legal Services of Peking University
2 April 2010
NOTE
The original Chinese language text of this statement is available at the website of the Center for Women's Law & Legal Services (www.woman-legalaid.org.cn/detail.asp?id=1089). The Chinese text was translated by School of Feminism for Glocal Activists (SF)/Network for Global Activism (NGA) - http://www.sfseoul.org/sf/sf_nga_02. ht ml ?action=view&wid=184&boardcode=board7&mode=view&page=1&list_mode=&search_field=&search_text=&order_by=&desc=). The current text has been very slightly edited for style and spelling.
---