FOCUS June 2000 Volume 20
Asia-Pacific Women's Informatization Networks
Media and the new forms of information communication technology (ICT) have become significant means to promote the advancement of women in the Asia-Pacific. The Beijing Platform for Action (Fourth World Conference on Women, 1995) declares the need to "Increase the participation and access of women to expression and decision-making in and through the media and new technologies of communication."
A number of critical issues arise in this regard:
women's right to equal and democratic access to ICT;
greater women's and citizen's participation in negotiations relating to the future of the information and communications industry and the international distribution of the Internet;
empowerment of women by enhancing their skills, knowledge and access to information technology;
involvement of women in decision-making regarding the development of new technologies in order to participate fully in their growth and impact;
increased access and participation of women to expression and decision-making in the media and ICT in order to overcome negative portrayals and stereotypes of women in media and communications; and
necessity of challenging instances of abuse of power of an increasingly important industry and encouraging the presentation of balanced, non-stereotyped and diverse images of women. [1]
In September 1995, 40 women from 25 countries took on the pioneering responsibility of setting-up, training and facilitating global information support during the Beijing conference. The Association for Progressive Communicators - Women's Networking Support Programme (APC WNSP) organized this first women-spearheaded activity of this sort in a major United Nations parallel conference.
Since then the growth of women's information networks in the world have been propelled by the accelerated development of information technology and the increase in women's access and use of electronic networking. A 1996 APC WNSP survey shows that women are not just receivers or end users of online information. Women's resource and information centers along with other information providers that have long been active in print, broadcast and audio-visual media are increasingly venturing into electronic networking to expand their reach. Groups from the South, in particular, repackaged "offline" information into electronic formats to share widely with women online. [2]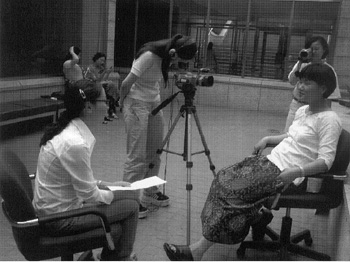 Regional information networks
The Isis International's regional initiatives and the Asian Women's Resource Exchange (AWORC) are two initiatives in Asia-Pacific that focus on women and information communication.
The work of Isis International in this field can be seen best in its regional program relating to the Beijing+5 Review. It has the following activities:
1) Local information-communication focal points in the region.
Women's networks as focal points are tapped to help disseminate information. There are now ten focal points covering South Asia, Southeast Asia, Central Asia and the Pacific. Information on the pre-review, review proper, and post review activities is disseminated by Isis through these focal points. Experience shows that the timely distribution of the Beijing+5 Primer published by Isis for the region can be credited to these focal points. They also collect information on the BPFA review process at the national level.
2) Information channels from the official level processes to the NGOs and vice versa.
Information from the official channels of the BPFA review (basically the United Nations system and its agencies focused on women, and national governments) are disseminated to NGOs through the focal points. Likewise, Isis ensures that information from the NGO level is transmitted to the official channels.
3) Info-Com Dispatch Advisory
Women in the region receive "news" dispatches or advisories through the following means:
a) On-line reporting
Updates on the national, sub-regional and global activities on BPFA relevant to the Asia and Pacific are regularly done through the web sites of Isis , AWORC , and globally through the WomenAction 2000 web site. The APWomen 2000 is a discussion list on activities and lobbying plans of women in the Asia-Pacific for the June 2000 United Nations General Assembly Special Session (UNGASS). The UNGASS was convened to assess progress achieved in the implementation of the Nairobi Forward-looking Strategies for the Advancement of Women, and of the Beijing Platform for Action. This special session entitled "Women 2000: Gender Equality, Development and Peace for the Twenty-First Century" was held on 5-9 June 2000 at the UN Headquarters in New York. The success of the short five-month preparation for the Asia-Pacific Regional NGO Symposium held in Bangkok on 31August to 3 September 1999 is attributed to the use of electronic networking tools such as mailing lists.
b) Print Media
Printed materials on Beijing +5 Review are also sent out to focal points that circulate the information within their countries and sub-region.
Printed Media Packs or information packs are being developed to reach mainstream and women's radio outlets on the Beijing +5 Review processes. An information pack on the Institutional Mechanisms for Women's Advancement, Women and Human Rights, and BPFA+5 Review had been produced.
c) Radio
Recognizing radio's reach to a wide audience of women listeners, a bimonthly news Radio News Dispatch reports on activities and initiatives related to the BPFA Review. It is transmitted to 18 radio stations and networks in Asia-Pacific. A live radio coverage was undertaken during the major activities. Isis provided a live global radio coverage and broadcast during the UNGASS.
AWORC is a product of women's search for innovative ways to facilitate networking and information-sharing. It was conceived during the workshop entitled "Electronic Networking and Resourcing: Strategies for Women's Information Centres" initiated by Isis International-Manila in April 1998. As the AWORC web site explains, "AWORC is an Internet-based women's information service and network in Asia. It is an initiative geared towards developing cooperative approaches and partnerships in increasing access and exploring applications of new information and communication technologies for women's empowerment." It is also a channel to promote the different advocacies of the member-organizations on such issues as violence against women, women and globalization, development of the status of women, women's health and reproductive rights, concerns of the girl-child and elderly or older women, women and the environment, women's movement in Asia and how to address the gaps on women's access to information.
The network now has the following women's information centres and providers of information on women as members. These are:
Asia Japan Women's Resource Center (AJWRC) - Japan</
Asia-Pacific Women's Information Network Center (APWINC) - South Korea
Asian-Pacific Resource and Research Centre for Women (ARROW) - Malaysia
Association for Progressive Communication - Women's Networking Support Programme (APC-WNSP)
Gender Centre for Sustainable Development (GCSD) - Mongolia
Institute of Women's Studies (IWS) - Philippines
Isis International-Manila (Isis Manila) - Philippines
JCA-NET (JCA-NET) - Japan
Korean Women's Development Institute (KWDI) - South Korea
Strategies
1. Multilingual Search System
Acknowledging that language is one of the barriers to communication and information-sharing, AWORC's web site integrates a multi-lingual search system as a main feature. This helps more women to access the print and non-print materials collected by the resource and information centres in the language they speak and understand. Currently, English, Japanese and Korean are the languages used. More widely-used Asian languages will be included soon. The development of this multi-lingual search system will take effect as soon as funds and skills are available. Concurrent with this is a bibliographic database that will house the databases of the members' on-line and off-line information. This search system will serve as a gateway to the resources of the AWORC members.
2. Training Capacity
AWORC just held its Asian Women's Electronic Networking Training (WENT2000) Workshop on 19-25 June 2000 in Seoul, Korea. This year's training workshop has three parallel tracks: Web-based Information Service,Working Online, and Basic Course in Database. Each track has ten to fifteen participants.
On 21-26 June 1999, AWORC held the 1999 Asian Women's Electronic Networking Training (WENT99) Workshop. The training focused on the use of electronic networking tools and web site development for the advancement of women's concerns and advocacies in relation to the upcoming Beijing Platform for Action or Beijing+5 Review. Twenty-three participants from women's organizations in Northeast, South and Southeast Asia learned how to set up and use mailing lists, and put women's information in the web.
The e-mail list set up for the pre-workshop coordination is now being actively used by the participants, trainers and AWORC members for information sharing and dissemination on the review process, post-training technical support, and coordination for review activities.
3. Information and communication technologies for B+5 women's campaign
AWORC dedicated the "Beijing +5: Reviewing the Platform for Action" web site as its contribution to the review process. This site is a conduit for information about women's groups, the United Nations and government mechanisms regarding the BPFA-related preparations and activities in the Asia-Pacific. It makes information about the Beijing Declaration Critical Areas of Concern, calendar of activities, resources, reports and alternative declarations made by women available.
On 2 September 1999, during the Asia-Pacific Regional NGO Symposium, AWORC along with Isis International-Manila and Asia-Pacific Women's Information Network Center (APWINC) convened a special interest group workshop called "Information and Communication Technologies: An Agenda for Women." The workshop discussed the rapid development of ICT and its impact on women's advancement. The panel speakers covered the issues of women's rights to equal and democratic access to ICT, including women's experiences in working for gender equality in the design, implementation, access and use of these technologies and in the policy decisions and frameworks that regulate them.
This workshop was held as an initial activity in the regional review of five years of women and ICT. Entitled "Status of Women and ICT in Asia, Central Asia and the Pacific - A Review" it will start on July 2000.The findings of this research will help identify the information and communication gaps and needs of women in the region which will also be valuable in determining the developmental direction of AWORC. The research is also geared towards producing a report and policy recommendations.
AWORC and Isis International-Manila provided on-site reporting during the major events leading up to Women 2000 such as:
Commission on the Status of Women Meeting last March 2000 held in New York, USA
Asia-Pacific Women 2000 NGO Symposium.
The reports include News Dispatches prepared by Isis International-Manila, plenary speeches, and national and sub-regional reports presented during the conference, and the declaration and final report of the symposium.
AWORC provided on-site reporting during the UNESCAP High Level Intergovernmental Meeting held on 26-29 October 1999 in Bangkok. The meeting discussed the five-year regional review of the BPFA.
AWORC's involvement in the various meetings/events leading up to Women 2000 included setting up Public E-mail and Internet Access Centres. Representatives from AWORC run these centers and provided assistance and training on e-mail and Internet use for participants.
4. Radio and Internet
While ICT is gaining ground as a major mode of information dissemination, it covers "only 3% of the world's population and ... leaves out 97% of the world's population [that] still depend on other forms of media. Radio is still considered to be the most widely accessible, most affordable and definitely most powerful medium across the world especially in the developing world..." [3] On the other hand, only a few radio networks broadcast programs aimed at female audiences. There is no single radio program that focuses on the BPFA.
The complementary relationship of radio broadcasting and the Internet is now being explored. The Women and Media Workshop which Isis International - Manila organized during the Regional NGO Symposium in Bangkok and the International Institute of Communication (IIC) pre-conference discussion on "Broadcasting and the Internet and the Developing Countries" held in Kuala Lumpur on 3-9 September 1999 recommend the development of efficient and culturally-sensitive softwares on voice recognition and translation. This responds to the lack of common language in a region of diverse languages. Isis International - Manila is planning a news digest service for radio. It hopes to involve mainstream radio stations (government and private). Also, in the absence of voice recognition and translation softwares, training of a pool of translators apart from the pool of writers will be done as a temporary solution.
Future direction
The development of ICT for the advancement of women hinges on the resolution of several issues. They mainly relate to policy issues on women and science and technology.
Governments should implement the training and education of women and girls in science and technology. Women should participate in the design and development of machines and softwares, as well as in formulating policies and projects from the ground level up. The BPFA review was a venue to pursue policies regarding:
"Access to knowledge and technology for poverty alleviation to enable poor countries and poor people gain the knowledge and information required to move out of poverty. These efforts to bridge knowledge gaps should be gender-sensitive to include women and girls.
Science and technology education for women and girls. The barriers that women and girls face when they seek science and technology training should be overcome. There should be more women in science and technology career.
Threats to women as traditional sources of knowledge. Access to basic communications technology is still very limited and costs are high. Women have often been seen as a source of traditional knowledge for which there was a high demand, but modern life's disruption of traditional communities is dissipating informal channels of information exchange and knowledge is flowing to those who are already privileged in other ways.
Women's participation in shaping information technologies. Women need to influence the development of science and technology and be actively involved in the definition and development of the new information technologies in order to create a space that is conducive to the discussion of their concerns, and represents their perspectives and abilities in a non-threatening and non-stereotypical manner. AWORC is aware of the kind of information in the web and passively disengaging from it will be losing the battle without struggle. A search for information with the keywords "Asia" and "women" will show web sites of trade on Asian women and children under the guise of "Asian women seeking foreign men for love, friendship, romance and marriage."
Gender and telecommunications policies. Further actions and initiatives need to be explored and implemented to ensure that women and girls have equal opportunities in science and technology and equitable and affordable access to new technologies, as well as training in their use and application." [4]
Today, we note with pride that women do not simply employ e-mail in their daily communications. They also tremendously utilize mailing lists and online work groups for planning and information-sharing.
Let the next millenium be the era of women producing and disseminating their own information to get more women to acquire and use knowledge, and move other women to action.
Notes
Ramilo, Concepcion, 1999. "Empowering Filipino Women in the Global Information Era." March 1999. APWIN Vol. 1.
Association for Progressive Communications Women's Networking Support Programme. 1997. "Global Networking for Change: Experiences from the APC Women's Programme."
Interview with Isis International-Manila's Communications Programme Manager, Mavic Balleza (Quezon City, September 1999)
Ramilo, Concepcion, 1999. Unpublished document.
Mylene Soto is a Resource Centre and Information Program Associate of Isis International-Manila. For further information, please contact: mylene@isiswomen.org
---