Overview
HURIGHTS OSAKA held a series of three seminars about children with foreign backgrounds in collaboration with OKoTaC (Osaka Kodomo Multicultural Center) from June to September in 2017.
This series aimed to provide information to education-related people about the need to better understand about the children especially within school education. The seminars focused on three different groups: Nepali, Muslim, and Vietnamese.
Seminar 1: Children with Nepali background (June 3, 2017)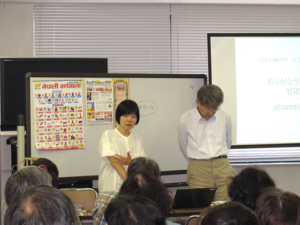 From 1990 to 2000, people with Nepali nationality constituted the fastest growing group among all foreign residents' nationalities in Japan. Also, those who are under 30 years old increased by 280% from 2012 to 2016.
Ms Ai Yamamoto, the Deputy Secretary-General at Association for Toyonaka Multicultural Symbiosis (ATOMS), gave a brief introduction on the overview about Nepali society and its historical, social, and cultural aspects regarding the school children and their families. 46 people participated in this seminar including school teachers who have Nepali students in their classes.
Yamamoto explained the educational issues regarding those children at schools. In her presentation, one of the biggest problems is the lack of preparation of the schools in receiving the Nepali children. As a result, the children are not able to speak Japanese, do not understand Japanese social structure, and, especially if their parents lack social connections and access to information, the children are likely to end up being jobless after graduation. Some of the children are exposed to discrimination and bullying at schools, which can lead them to lose their self-esteem.
According to Yamamoto, the lives, education, and career paths of the Nepali children are affected by the instability in their parents' circumstances. Due to lack of services provided in Nepali language, parents have difficulties in accessing information on education or welfare. Therefore, one of the challenges for the Nepali families is to reach schools and supporting organizations.
Nevertheless, Ms Yamamoto noted that the schools have to play a major role in the Nepali children's support. She suggested that teachers should pay extra attention on the individual needs by actively communicating with them.
Seminar 2: Muslim Children (July 29, 2017)
In this seminar, ATOMS staff provided two lectures. 40 people joined the seminar including school teachers and Japanese language supporters.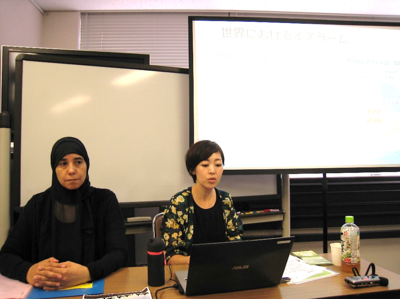 Notes from Ms Emi Yamane, a program coordinator for children at ATOMS:
Ms Yamane estimates approximately 25,000-30,000 Muslim children including those with one Japanese parent living in.
At school, Muslim children often face various problems related to everyday life such as Muslim diet, Ramadan (the ninth month of the Islamic calendar for fasting), clothing, prayer, school events and health check.
The key approach in supporting Muslim children is to remember that the Muslims do not necessarily come from the same country, regions, cultural backgrounds, nor have the same family relations or lifestyle.
This makes it important for teachers to understand the individual student's and parent's needs by communicating with them. It is crucial for teachers and supporters to know the diversity of cultures and social backgrounds of Muslims in order to abolish the prejudice against them.
Notes from Ms Elmtouni Achraf, a volunteer staff at ATOMS:
Ms Achraf shared her experience of raising two children both in France and Japan. Because there are more Muslim children in France than in Japan, it was easier to raise her kids in France in terms of acquiring Halal food and schools having better understanding about Islam.
When she first came to Japan with her family, she was worried if her children would be discriminated or bullied in the school. Although the school had school lunch, Ms Achraf made her childrens' Halal lunch. As for swimming class and changing room, she also negotiated with the school for a separate room for changing clothes and for allowing her children to wear special swimsuits.
She said that she sometimes felt that the recent Japanese media on news about ISIS, was spreading negative images of Muslims. "ISIS represents a very small group," she noted. She wanted everyone to know that Islam is a peaceful religion.
Seminar 3: Vietnamese Children (September 2, 2017)
Two speakers were invited in this seminar: Yang-Haeng Park, the Representative Director of a NPO Tokkabi Association, and Vu Thi Thu Thao, an assistant language teacher at Takamiminami Elementary School in Yao-city, Osaka. There were 31 participants including school teachers and people who assist Japanese language learning at a local organizations.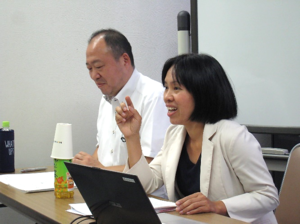 Report from Yang-Haeng Park and Vu Thi Thu Thao:
Vietnamese children in Yao-city can be categorized into following three types.
1) Descendants of Vietnamese refugees who fled after Vietnamese war
The educational level of these children is generally not very high. One of the reasons is their Japanese language skill. Even though the children might not face a big problem in their daily lives, many of the children struggle with school education due to the lack of language skill required for learning.
Besides, many of their families are economically unstable; nor do day live in surroundings with sufficient opportunities to learn Japanese. Some of these Vietnamese children are wary of being bullied by Japanese children, and try to act tough, causing troubles at time.
2) Children who were brought to Japan by one of their parents who re-married in Japan
After the parents' divorce in Vietnam, these children are brought over to Japan by one of their parents who is a resident in Japan. Some of them strive to overcome the difficulty of adapting themselves to their new social and language environment while others struggle to go to Japanese schools.
3) Children whose parents have Status of Residence under "Engineer / Specialist in Humanities / International Services" in Japan
Children of this category have parents who have comparatively high educational levels, are passionate about their children's education, and have stable family structure and economic condition. This situation enhances the children's motivation for studying at schools.
Vietnamese parents have a common concern: how to communicate with their kids. Because the Vietnamese language level of the children is about the same as the Japanese level of their parents, it can be difficult for them to communicate with deeper contexts and emotions. This issue may be also a huge concern for the children.
On the other hand, the children are Vietnamese nationals even if they were born in Japan. If their parents are refugees, they will be registered as stateless. The children may neither see Vietnam nor Japan as their own country. People cannot simply visualize the others' backgrounds. Yet it is significant to know one's background in order to grow up with self-esteem.
Vu Thi Thu Thao said "when I watch news, I often see many Vietnamese Americans playing active roles in the US society. However, I barely see or hear any similar news in Japan. There should be role models who can empower the children by showing remarkable activities. It is our grown-ups' job to encourage the children to pursue the dream that children of any country have equal chances in any country".